26 Jan 2022
Important new information about a 2022 reunion is posted on the Reunion page. Please check that out (go to Reunion Page) if you are interested in attending this year. We need your input as to where and when it will be held. We need that input ASAP!
---

17 Nov 2021
Matt Clark sent in another Oasis Club menu which is now posted. While on the page I consolidated another menu and the newsletter into one file so you can download and view them in one click, and grouped the menus at the bottom of the page.
---
Oct 22 2020
From Claudio Baracetti regarding people from Asmara living in the US.

My name is Claudio Baracetti, and I was born in Asmara on 25/09/1938, when that city was part of the Italian colonial empire, which ended in 1941 with the occupation of its territories by the British military forces.

I lived in Asmara until November 1957, and in the summer of 1959. I have not lived in Eritrea since. Some Italian friends of mine, and some Italian girls I know emigrated from Asmara to the United States. Some of the aforementioned Italian girls from Asmara married American boys from Kagnew Station, and went to live in the United States, where their children were born.

That said, if the aforementioned US citizens of Italian origin wish to get in touch with old Italian friends, they can write to my e-mail address "baracetti.claudio38 -at-gmail -dot- com" (replace -at- with the @ symbol and -dot- with a period), and I will be happy to answer.

I extend my best regards to all.
I especially thank Kagnew Station for the hospitality.
I await your kind reply.
Claudio Baracetti.
---
May 15 2020
I've made some changes to the Roster Registration and Change forms to improve them and validate some entries. If you have any trouble with either form please contact me with the details.
---
March 30 2020
The page has been online about 25 years now and a lot of people have moved or changed their contact information. Please take a minute and send in any roster changes so we, or your friends are able contact you. Recent emailings for the upcoming Colorado reunion kicked back 120+ invalid emails. Please help us out and get updated....thanks.

Also, this virus thing is very dangerous, some areas more than others at this writing. Please be careful out there and don't put yourself in a position to become affected. Think and stay safe!
---
Tom McCandless contacted me tonight about a display problem with the page so I called him and we hashed it around. He had updated to the latest Microsoft Edge browser and it broke the menu on the home page. After some testing we discovered it is broken with the new Edge, Brave and Opera browsers. What happens is the main bar looks empty, but it isn't. It has been stretched past the screen and if you scroll to the right you'll see the options. Then this cascades to the sub menus that do the same thing. This is not workable.

After some digging we discovered it's a bug introduced by Google in Chrome, which is used in newer browsers. I do not have Chrome on my computer but I tested the page on my phone in Firefox and Chrome. Sure enough, it works in Firefox and does not correctly in Chrome.

The software I use to build the menus hasn't updated it's program in six years but says it has a workaround. They are in Europe and I'm trying to get in touch with them and buy this. Google is "aware" of the problem but no fix in sight so who know if that will happen.

Tom and I both think for now, the best solution is to use a browser that displays the page correctly. Mostly due to the fact I'm not sure if I can get my software update to correct Google's error, or if and when Google fixes the problem they created.

It appears fine if you are using the Edge or Internet Explorer 11 browsers in Windows 10. Also I have tested the latest version of Firefox on Windows 7 & 10 and there is no problem.

Updated February 6 2020

I was in contact with the software company in Greece that I built the menu with and they provided me with a fix. It's been applied and Tom and I have tested the web page across different browsers with good results (I do not have Apple Safari for testing). Only browser I can say does not test good is Google Chrome (of course) on my phone. And if you're trying to view the web page on a phone you'll probably go blind! So I would suggest you can view the site on anything but Google Chrome.

If anyone out there is a tech expert or uses Apple products and would like to share their thoughts I am always open for suggestions. Just drop me an email.
---
October 23 2019
I've had a couple of inquiries about why the site is not secure (https:// in the address instead of http://). I don't do any kind of e-commerce on the page or store financial information so it's never been an issue. I did purchase a secure certificate over a year ago and pay monthly fees to make it a secure site but for some reason those changes hadn't been put into effect.

Yesterday I started to research it with the help of my host support and I believe I have the site on the way to be an official secure site. This will be necessary as newer, updated browsers would eventually cause to site to give errors and not display. It's not necessary to go into technical details as I don't think anyone really cares about that.

The important thing for you to know is that when you go to the home page the address should show https://kagnewstation.com and you will not see a warning to the left of that telling you it's not secure. Any bookmarks that you have with the http://..... address will forward to the new address. If it doesn't, it means you need to clear the cache in your browser to pull in the newest page. You can do a search for that on the web to determine exactly how to do it with your browser. Generally you can hold the Ctrl-Shift-Delete keys to open up a dialog box. Make sure Cache is selected and click OK. Then reload the home page. If you have any problems just contact me.

Finally, this is just a start. There are many pages on the site, interlinks and support files that might still have old http: references that I need to change manually. Everything should work fine, but you may occasionally see that error flag next to the page address saying it's insecure. Not to worry, usually going to be an image on the page that has the old link, it's just a warning. If you do encounter this, please send me the address of that specific page and I'll put it on the list for correction. Going to be quite a task but it has to be done.

Thanks for your patience and support.
---
April 17 2019

Message Board Update

Unfortunately I have not been able to get an update or put a band aid on the Message Forum and get it working again. The software is at least 15 years old, obsolete and not supported. I'm trying to find something similar to it and will post a notice here if and when I can get something.

Guestbook Update

I've also had questions about the reason you can't post in the guestbook. As soon as I open it up for postings, spammers with nothing else to do in life start filling it up with garbage so I have to physically go in and clean it up every day, sometimes twice a day. Therefore posting is disabled. The guestbook is still viewable if you'd like to check out the past entries. In the next couple of weeks I think I might open it up for a day or two to see if the spammers are still trying. I'll update here when I get the results.
---

January 21 2019
With the combination of my host upgrading server software and some of my own software not being supported anymore, I'm starting to run into problems. For instance, the Message Board software is 15 years old and is no longer functional or supported. Doing some quick error checking I received over 100 errors on one page. I thought about trying to fix all the problems and get by, but there could be 100s of errors to fix and I would still be stuck with old, unsupported software. I'll look into it a little more but it looks like the Message Boards will not be available again.

There may be other issues resulting from the host upgrades so please let me know if you have problems on any other pages. Be specific about what you were trying to do and the location of the pages.

I'll be looking at some options to replace the Message Boards and will also be looking at other available software to add. Also, if you have any ideas for additions let me know and I'll see if it's workable.

Don't forget there is a Question and Answer page that hasn't seen much action, so you can use that if you have any questions about Kagnew, Asmara etc. you're looking for answers to. It is one piece of software that you have to go through a registration process that's keeping the spammers out.
---
June 25 2017
Grady Olmstead sent in an interesting picture of a "military throw" someone made for him. It uses pictures of the time Grady and his twin Brady were at Kagnew to fill in between panels of flags. It's very cool and Grady wanted to share it with you. I will probably move it to his Scrapbook page after it's been here a while. Check it out!
---
March 5 2017
I continue to get spam on the guestbook and other pages so I've been trying something new. Every computer on the internet has what's called an IP address, which is basically the internet address of that computer. Different countries and regions will have a certain part of that address that points to that area. If I see someone trying to spam or hack the web site, I am blocking ranges of addresses for those countries. For instance, I receive many from Russia, China and Romania so I try to block entire countries. In some cases it's possible the blocks could affect our fellow Kagnewites. This web site is solely designed for Kagnew veterans and those associated with it.

If you know of someone who can't reach the page or is having a problem with, contact me and I'll work to get that resolved so they can view it. Or just have them email me directly, that is not blocked, and I'll work with them.

Sorry to have to do this, but I'm trying to keep it clean and safe for those that really care about the page. If you have any comments or suggestions about this please email me and let me know.
Thanks.....Rick
---
February 22 2017
Chuck Moulton sent in a note saying the Department of Defense was going to open up some PX privileges to honorably discharged veterans. Don't know much on this but here is a link to the story:

Department of Defense Extends Online Military Exchange Shopping Privileges to Veterans

If you have any more information about this please let me know and I'll get it posted here.
---
Updated November 1 2016
I have pulled the plug on the old guestbook software and placed files there that will lock up your browser. I did this to cause problems for spammers. DO NOT navigate to the old guestbook at http://kagnewstation.com/guestbook/index.php which was still being used on the menu system. If you had the guestbook bookmarked, delete it, go to the updated Kagnew Station Home Page menu and click Support, Board, Guestbook to get to the new one and bookmark it. If you have any questions about it, email me and I'll help you.....Rick
Updated September 1 2016
I have upgraded the guestbook and it now requires a poster to enter a code displayed at the bottom of the entry screen. Only one more thing to enter that hopefully stops the automated bots from posting garbage. I was also able to copy everything over with the same appearance so you shouldn't even see a difference when viewing current posts.

August 31 2016
Unfortunately, due to the large number of idiots spamming the guestbook, I have disabled the ability to sign the guestbook. You can still view all the posts at this time, over 800 of them.

I am working on upgrading the guestbook, which will have the same layout and appearance, but will have an added requirement to enter a code displayed on the entry form to indicate that you are hopefully a human!

Initial tests with the new guestbook are working fine. Now I will attempt to import all the old entries into the new guestbook so it will look seamless for everyone. If I have problems, I will simply leave the old guestbook online for viewing and start a new guestbook for posting.

If you are wanting to post to the guestbook before I get this completed, please email me and let me know. I will then email you back when everything is ready to go.

More work and inconvenience because there are too many idiots out there that only ruin the experience for the rest of us!
---
2016
I just received a new box of stickers, the FINAL box! The cost to me has gone up 72% so I've got to raise the cost per sticker 50 cents to $2.50 and eat the rest.

In addition to the little proceeds I get helping me support the page financially, I also give these away to sponsors and have given some away to a few reunions so I need a little cushion. I can't absorb the entire increase.

Check the "Hot News" page for a little more information. If you're interested in purchasing some stickers, please to let me know....thanks, Rick
---
I have a few people over time tell me they'd like to return to Asmara. That includes me but I know that won't happen. If you do, please read the State Department travel warning before making plans. Here is a link as of this date:

Eritrea Travel Warning
---
I've been doing this page for 17 years now and I've kept the technology basic all these years. Sort of the lowest common denominator to make sure everything works. I've finally decided to move into this century because the technology has come a long way. The changes won't be extreme and quick, because I'm going to be teaching myself along the way. The first two items that will be new are the contact and roster registration pages. I've done some preliminary testing and it looks good, so I'll be getting those online shortly. I'll let you know on this page and give you the links, while keeping the old ones for a while. That way you can check them out to see the difference. Hopefully for all of you it will just be cosmetic, but I want to make the pages look nicer and more professional. As always, content will come first.

I have IE 9 and 11 and Firefox (27+ at time of writing) available to me on a computer and the pages function fine in those browsers. I was able to see one page in IE6 and there was a small problem with alignment of the Submit button. I was also able to use the contact form on a smartphone, using Opera and Dolphin with no problem. I have no experience with Chrome so some of you out there can possibly help me.

Speaking of browsers, if you have IE6 and that's the only one you use, you need to upgrade, NOW, PERIOD! Don't ask questions, just upgrade. Even Microsoft says too. That really goes for any browser you use, keep upgraded to at least one level behind current for security purposes.

Also, this newest technology I'm using needs IE9 in the Microsoft family for the full effect. If you're using Firefox I don't think you'll have any problems. Unfortunately, IE9 is only available if you have Windows Vista or 7. It is not compatible with XP, so the highest version XP can upgrade to is IE8. The new pages work in IE8, you just won't see the graphic effects. For those people I'll post a before and after screen print so you can see it. If someone uses other browsers, I hope you'll try the page and let me know how it works.

One more thing, please make sure you have JavaScript enabled for the Kagnew web site. I use it to validate fields when you use the forms, to put footers on some pages, popup windows on the Memorial Wallk etc. If you don't know what I'm talking about then you are fine!

I have tested the contact page and decided to online with it.



NEW Kagnew Station Web Page Contact Form



For those with the older browsers, it should work fine, you just won't see the new graphical look. If you do have a problem, I am leaving the old form online for a while.



OLD Kagnew Station Web Page Contact Form
---
Gary Gordon of the "Brats" page asked about posting dependent names on the Memorial Wall, but I have always reserved that exclusively for military veterans that served at Kagnew. As we talked further, we came up with the idea of adding a page in memory of dependents and civilians who also experienced Kagnew Station. As we throw around some ideas, email me or Gary and tell us what you think of the plan. And if you have any special interest or ideas, please share those with us......thanks.



Email or
---
Mike Metras has been on an amazing "walking" journey and I wanted to share his last email with you.

Hi Everyone,
Hope all is well with you. It has been a while since being in Jerusalem and we are still on the road. We have been in India since leaving there in January. We're set to return to the US in late May.

Finally I prepared pictures of our wanderings in Jordan and Israel. They are now posted on WalkingEast.com. Enjoy.

I have written nothing about India because it is a totally different experience, though it is in its way a closing of our WalkingEast pilgrimage. Here are some words from a letter I sent to a group of friends from many years ago when I was in the Army:

I am sitting just inside from the balcony of our hotel room in Mcleodganj, Himalcal Pardesh, India (the "Tibetan" suburb of Darumsala). In front of me a deep valley stretches out toward the planes to the south. A couple miles to the left a wall of steep mountains raises to a high forested ridge. Beyond brilliant snow mountains reach much higher in the noon-day sun. Below and to the left building after building sits one almost on top of the other up to a ridge at about my level. Just over the hill to the left I can almost see the roof of the Dalai Lama's residence. The air is crisp but not cold. Tibetan flags fly from every other rooftop. Dogs are barking. The ever-beeping horns of Indian cars are blaring their warnings in the streets behind and to the left. Crows are cawing and hawks calling. The kitchen odors are wafting up from two stories below. We are resting at 5,800 feet, high above the scorching Indian plains.

Petra just walked in from the balcony said, "Can you see I am walking? It's amaizing that it grew back together. In a few days it's a half a year since I broke my leg. It's more than OK. It's all together again." She had her single crutch for a few days after arriving in India 15 January. But she shed it soon after and has been getting better and better since. And now this excited realization of her progress. ...

We arrived in the higher foothills and mountains in northern India a few weeks ago. And now Ethiopia has to step aside as the site of the greatest mountains I have seen. We drove through mountains here on narrow roads that reminded me much of the Massawa road just below Asmara [Ethiopia] and the east and west roads to Addis. After an introduction, the mountains became steeper and the valleys deeper and roads and towns and villages and terracing filled the mountain sides. This land is being used for heavy farming. We even treated ourselves a short (2 mi) mountain walk one day. Indeed, step aside, Ethiopia. These mountains are amazing. We'll traverse some of them again as we head back to the south in a few days. By the way, though the speed limit is often higher, the going every-day speed in India is 20 to 25 kilometers per hour (12 to 15 mph). You just cannot go faster.

That's it. Enjoy the pictures and have a great spring and summer.
---
I've been away from the computer for a few weeks now. Personal reasons so I won't get into it. Just a quick note to let everyone know I'm still here and hope to get back at the emails. There are so many that I don't plan to ever see the light at the end of the tunnel again. Maybe after I retire! So if you don't get immediate response, you're not alone, don't feel ignored. I do this page on what little free time I can find outside family commitments and it's hard to find that time. Doing the best I can.....
---
The annual message I put out at the end of the year on the status of the page has always been buried down on the sponsorship page and not easy to find. I've added a menu option for "Kagnew Page News" on the "Other" menu so you can get to it easily.
---
For those of you interested in the railway in Eritrea, Jennie Street has a new book out which you can find at: http://www.silverserviceconsultancy.co.uk/redsearailway/. All the information you need plus some samples are at the site.
---
I used to have an FAQ (Frequently Asked Questions) on the site but it never seemed to work right. There was some maintenance on the servers this week so I'm trying it again. I have installed it and added a category for the Roster so check it out and let me know if you think it's something that would be useful for everyone, especially the newguys who come on board.

It is now on the menu system under Support. You can also click here to see it.

Kagnew Station FAQ

Also, I was able to install a blog. I'm not sure how this will be used but they are all over the place, why not here? There are a couple of posts there now which you can reply to and one is closed to posts. You can view a couple of the posts without registering, but you will need to register to post comments so go ahead and register and try it. Pick a good ID and password and get registered, then leave a comment on what you think about it.

The new blog is also on the menu system under Support, Boards, or go to it using the link below.

Register by clicking the Login link near the top of the page, then click the Register link on the login screen. You must use a valid email address where you will be sent a verification message.

Kagnew Station Blog
---
I have been offline for about a month, beginning with water in my basement (where my computer and all Kagnew memorabilia is) and then my computer giving me fits and deciding it didn't want to work anymore. A couple of brothers emailed me to check in and see if I was ok and I appreciate that. Things aren't back to normal, but I am back and will try to work on emails and photos as I can find time.

On another note, I have a bunch of Kagnew items that I will be selling on ebay, but I first want to offer them to fellow Kagnewites who visit this page. They are items I've picked up over the years, but not those that I picked up in Asmara. There will be items like Ethiopian coins and bills, Kagnew patches, olive wood and others. I hope to get that started around the 1st of December and will give everyone plenty of notice, and plenty of time to decide if they'd like something.

After some time and I still have the items, they will go on ebay for sale. All of the proceeds will go to help me upgrade software to help me with the site and to help with the ongoing upkeep of the hosting. Stay tuned to this page or the Hot News page for information about this sale.
---
Glen Coleman has started a new Yahoo group for everyone that was at Kagnew. He is asking everyone to come join and talk about the good times we had at the island in the sky later.

Yahoo kagnewstationvets group
---
I normally don't post a notice that I've added a new scrapbook page, but Rich Angulo (48-50) sent in a couple of very interesting pictures from his time. One is a group photo of the detachment, which is so good you can pick out all the faces. So if any of you were there "way back when" you should be able to pick yourself or your friends out. He also sent one of the inside of the old Oasis Club, which I had never seen before.
Thanks a lot for the pictures Rich......Rick
---
I am always getting questions about kids being born at Kagnew, getting birth certificates, trying to contact the State Department etc. Problem is I have no knowledge about how to help them. And it's probably tougher now that the last ones born there are in their 30s now.

Daniel Czarapata's son was born there and he sent in a note with a tip for all of you. It may help. Thanks Daniel for sharing this with us.

You may want to advise anyone born in an Army Hospital overseas that when filling out any forms for the government to enter USArmyHospital when they ask for place of birth.
---
I heard from your website through a daughter of a person stationed at Kagnew then... I found your website very very interesting.

I am currently doing some research for a documentary on Asmara. Therefore I am very interested in general and personal information, motivation, experience from the stay in Asmara.

Do you think someone would like to tell his/her story? Do you think there are pictures, video etc. available? Thank you very much in advance!
Warm regards,

Berlin, Germany

If you would like to share your experiences for Seneit's project, please contact him directly by email. I have requested more information from him and will post that as soon as I get a reply--Rick.
---
(Ongoing)

For anyone who has been visiting this page for any length of time, you know that it is your contributions that make up most of it. I am again asking for your help to build some of the new pages you are seeing with the new menu. Two major areas I want to work on now are the Tracts we worked at and all the sports we participated in (well most of them!).

I only know Tract B as that's where I worked, so those of you that worked at the other tracts need to fill me in on what the functions of the tract were and dig in the boxes for some of those rare pictures. With the help of Ralph Reinhold, I scanned 30 envelopes of 8 by 10 government photos of Kagnew and some of the tracts. I'll soon be working on getting those posted online. But I need your help in describing what the tracts were all about, and those who worked there know it best. Please and help contribute to those pages.

Also, there were many sports events at Radio Marina and Kagnew and I'd like to put up more of that information. I'm going to scour the Gazelles I have for articles and would like your input and pictures if you can help out. Everything from basketball, flag football, volleyball, auto and motorcycle racing, gun club, dependent's event, cheerleaders and anything else sports-oriented. How about those trips to Europe to compete? I think this has the potential to be a big page so again, so your stories and pictures.

If you have trouble using the above email links (most likely Microsoft IE users), use the contact form to contact me.
---
Dave Henderson has a couple of unique items. They are Kagnew Gazelles in bound books. Here is his message:

I have every issue of the Kagnew Gazelle from 9 Jan 1970 to 10 Sep 1971. These are the issues when I worked for the Gazelle as a writer or editor.

Il Poligrafico, our Gazelle contract printer-vendor, bound these issues in hardback for me just before I left in 1972.

Does someone have the resources to scan and create pdf's of these? The scanning needs to be done professionally and with care to preserve the book binding.

I am, understandably, cautious about letting this history out of my hands. But I would like to make this Kagnew historical data available to others via the kaganewstation.com website.

There is an Adobe Acrobat process to OCR the text and to create indexes that can be searched. Searches of this data would be a wonderful addition to the website.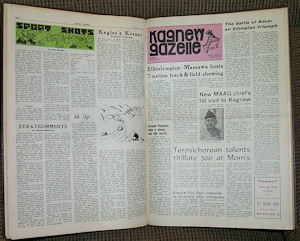 (click for larger image)



I could scan them but it would be a big job and require quite a bit of time. If anyone has any suggestions or resources that could help Dave get these Gazelles scanned, please email me.
Rick (link on home page)
---
The Kagnew Map page is back under construction and I NEED YOUR HELP! I've been going back through the site and my emails to find pictures and information but I need everything I can get.

If you have "ANY" pictures of Kagnew buildings inside and out, or you just have specific information about a building and it's use, please contact me so I can include it in this project. This is going to turn into a great historical document about Kagnew, every bit of information is important. Nothing is trivial so if you have anything you'd like to share or contribute to the piecing together of Kagnew's buildings, please let me know.

As I build on this, I will have a page in conjunction with the map that will have specific questions or picture needs listed so I hope you will all check in occasionally and see if there is someway you can help.

Over the 10 years I've been doing this page, I couldn't have done it without your help. Here's your chance to do it again.
Thanks, Rick
---
William Borndahl sent in information about a what looks like a very exciting railway tour in Eritrea, with a side trip to Cairo. The trip leaves London's Heathrow Airport October 30th. The price is 1895. Euros and you can find information on their website - The Railway Touring Company (Eritrean Trip). Even if it's impossible to go, check out web site and read about the tour. Some of it should bring back some memories!
---
I was working at the backlog of emails and I noticed a note I had sent myself when I came across an old newspaper article about the change of command at Kagnew. It was from a newspaper in Maryland talking about a Col. Malone taking command at Kagnew and replace Col. Keene. I thought it might be interesting to see if I could put together a list of Radio Marina/Kagnew commanders over the years. This is definitely another area where I'm going to need your help. If you remember who was commander while you were there please send me as much as you know, name, rank, years etc. and I'll take it from there. As it grows and we tweak the information, maybe we can put this together. Just email me with anything you know....thanks, Rick
---
Art Adolphsen has been working on a little project at home, redoing a jeep of the 1952 era. He says he took a few liberties but I think the end results are cool.


---
Jim Courtney sent in a link to an interesting article on the New York Times site. It is an article about the obituary of Haile Selassie which was printed August 25, 1975.

http://www.nytimes.com/learning/general/onthisday/bday/0723.html

Thanks for sending it in Jim....Rick
---
George "Zazz" Zasadil, my co-conspirator in the inaugural '99 Kagnew Reunion in St. Pete, FL, and the webmaster of the 4th USASAFS web site sent me a note and asked that it be posted--Rick

My Two Cents

At times, we may forget to realize that some of the less important things in our lives are very meaningful. Friendships that have somehow endured during past 4 decades now seem to be important. Bonding, once again, with former members of an elite group of travelers, is now of prime importance to us, as individuals.

Rick: You have helped to make all this possible. Without the Kagnew Station Homepage none of this (Annual 1965-1969 Group Reunions) would have been possible. I get a lot of undeserved credit for your hard work, and I do defer the credit to you. I also credit Dennis (Jack) Horner, whose piety caused me to create the 4th USASAFS Website. I have received negative comments about my Site from some former Kagnewites as well as a death threat from a young Eritrean attending college here in the US.

I looked at your Reunion Page tonight, for the first time in years. Do you realize what you have done for others, Linda Caudell – for example? It's amazing. Over 2100 on the roster, wow! When I first signed up in July 1997 there were slightly more than 100 on the list. Through your homepage I have reunited with several of my old "Kagnew Station" friends.

This year's reunion on Maryland's Eastern Shore will probably be my last. I feel that I have little time left (Years of bad habits are catching up with me). And I want to share that time with old friends and my family (I'm spending 3 days with my son in Maryland before Reunion).
Zazz
"Watchin' the sun bake all of those tourists covered with oil"

Updated 2/02/10 -- Zazz recently passed away but Bob Dymond has stepped up to keep the site going.....Rick
---
Frank Morgan has sent in a note about the Eritrean Development Foundation:

Rick,
The Eritrean people, singularly intelligent, hard-working and long suffering need help in many directions. As we all know, the country itself is poor in terms of ariable land, and beset with drought for the past several years. A number of Veterans of Radio Marina/Kagnew Station have donated, through the Eritrean Development Foundation, money for the purchase of sorely needed textbooks etc. It was my intention to bring this effort to the attention of as many of the people who have served there, and ask their help in this "bootstrap" operation. I ask your help in getting this message out to anyone who might be willing to contribute to this effort.

For additional information, please contact:
Margo Kelly
Eritrean Development Foundation
1012, 14 St. NW (Suite 1030)
Washington, DC 20005

Thank you Rick and salutations to all the guys who may have served in Eritrea.
Franco (Frank Morgan)
---
Through Dave Nelson and Joe Wilder I've received the link to a web page that you should take a few minutes and check out. It is a Flash slide show presentation entitled, "A Tribute To All Who Now Serve." It is worth the time.
---
Don Molinelli, who was with the Ethiopia-US Mapping Mission in 1967-68, just sent me a note saying they now have their Mapping Mission web site online. The link is on the "Links" page as well as below so check it out.

Don also tells me that the Mapping Mission had a Liaison Office at Kagnew the whole time it was in operation. There have been Mapping Mission guys listed on the page for some time so it's nice to see that they now have their own web site. Congratulations guys!

Any questions about it can be directed to the host, Lee Miller, at:

leemiller "at" ethi-usmappingmission "dot" com (please replace with "@" and ".")
Thanks! Don M.

www.ethi-usmappingmission.com
---
Our own Ed White, who recently went back to Asmara and has contributed a ton of pictures to the Kagnew page, has informed me he's published a book about his experiences and realtionships while at Kagnew. It's entitled "An African Treasure, A True Story from the Horn of Africa." What's important is that Ed tells me all author royalties are being donated to Letekidan's children and the Comboni nuns who help with the orphanage in Asmara! You can find the web page for this book and contact information at: http://users.starpower.net/whitee/bookcover/treasure.html

Think I'll order one myself -- Rick.
---
For those of you who read Italian, Francesco DeLeonardis has sent me a web site (http://www.ilchichingiolo.it/)devoted to Asmarites in Italy. Even if you don't, nose around anyway and check out the "Album" link for pictures.
---
If you happen to be around Aurora, CO, Dick Lilienthal tells us there's a restaurant where you can get some "lamb in berebere sauce." Or how about a combo of "zigni, zebhi dohro and allicha begee?" It's called the Massawa Cafe and is located at 1842 S. Parker Rd. in Aurora. If you get a chance to stop by, let us know how it was.


Menu Inside
Menu Outside
---
For those of you that wonder if the Kagnew page is helping people find each other, here's another note:

Thanks to you and your web site, I have located one of my friends from my days at Kagnew-Stratcom. I have tried and failed for the last few years but after reading some of the success stories of some of the other guys on this site, this time I didn't give up. So my advice to everyone is don't give up.
---
OK folks the Asmara American web site is back up. After much work trying to get it back on ATT I finally said the hell with it and put it on geocities. Check it out as it has a couple of new things added to it. The get listed page works now so if you want to add a new member you can fill out the form and it will come to me and I will put it up. Also I have added a "In Memory Of" page. If you know of anyone who needs to be added to this page let me know. You can send the info to me along with some info on them and I will post it. There is even a guest book now so don't be afraid to put it out there. Along with this page I have been doing something else. Its located at http://www.geocities.com/mbrat61_64/main.html.

As a couple of you know I have been borrowing the yearbooks that are available and scanning them, I then put them on a CD. I have been taking the CD's and making a copy for the individual who donated the use of the book and another for archives in case some one wants a copy (for a reasonable price) as we all misplace things now and then. I make one more copy of it and send it to Dr. Thomas Drysdale in the name of The Asmara Alumni. He is the head of the American Overseas Schools Historical Society (AOSHS), You can check out there site thru the links page. I have so far copied books for the school years of 1963-1964, 1964-1965, 1965-1966, 1966-1967, 1970-1971, and 1971-1972. If you have any of the books that are not listed and would like a copy of it on CD then send me an e-mail and let me know what years you have and we can make arrangements.

Other than that take a look at things and let me know if you see any problems or if you have any sugestions. I will update the reunion page votes in a couple of days and there will be another anouncement on it from another one of us at that time.
Have a good day and enjoy the site.
Gary Gordon
---
John Leeger has written a book about his experiences (as he remembers them!) at Kagnew. John was at Kagnew Station from July, 1968 until December, 1969 as an Arabic linguist, Radio Traffic Analyst, (OJT-trained) cryptanalyst and in charge of the Saudi section on days for the last year or so of that tour. He says they were told in Basic Training by the powers that were that only one person in ten qualified for the ASA. Then, in the ASA we were told that only one in ten of us were good enough for language school. That's where the book's title came from, "One in a Hundred."

John also says it was written as a "fun book" and latest reviews coming in say everyone has enjoyed reading it. I have checked with the two major web sites and here's a link to the book. There appears to be a hard and soft cover version, and the B&N prices seems to be a little less at this time. If you're interested check out the sites for yourself and just key in "Leeger" in the search box to find the book.

Try online at Amazon or Barnes & Noble.

If you decide to purchase it, let me know what you think about it.
Rick
---
Thanks to the Kagnew page, I can report another reunion of friends from Kagnew. Dean Tiernan and Linda Caudell-Feagan have informed me that they were able to have a reunion after not seeing each other for 28 years! Linda has agreed to send in a story on this reunion and I plan to post it here soon. For now though, check out these photos of Dean and Linda in:



[1973] and [2001]


Here's a note from Linda:

Thanks to you and your amazing website, we found each other after more than 28 years! We had planned to be at the Kagnew Reunion, but September 11th prevented both of us from flying to Orlando. But we had a wonderful reunion in November in San Francisco! Because of you, old friends have reunited once again. We can't thank you enough! We think you'll enjoy the attached pictures -- 1973 and 2001!

Linda Caudell-Feagan and Dean Tiernan
---
Randy Rowley has just sent in an old Asmara map with a legend locating various buildings around Asmara. Since I've got a collection of maps I've decided to open a Kagnew map page strictly for maps of the area and Randy's map is the first to be posted. As I rework some of the maps they will be added to this page. Some are quite large so I will let you know on the page what you're getting into by trying to view them. Reducing them in size to allow quicker downloads would only decrease their quality to the point they most likely be unreadable. Enjoy the new addition to the page.
Rick
---
I recently acquired a map of Eritrea which is very good and as far as I know is the best one commercially available today. It's about 2x2 1/2 feet, scale 1:900,000. Map distance from Asmara-Massawa is three inches. It's available from ITMB Publishing, 345 W Broadway, Vancouver BC, Canada V5Y 1P8, 604-879-3621. They have a web site, www.itmb.com , but you can't order on the web, have to phone. They also sell a map of Ethiopia, similar size but larger scale (1:2,000,000). Maps are $8.95; I ordered both and with p/h added they cost $24; came in about a week.

I've seen only two other maps that I would more like to possess, and the chances of obtaining either are near-zero. One was a large roll-down wall map that the Italians produced in the late 1930s (when Eritrea's boundaries were extended well south into Ethiopia). Covered with place names. I saw just two of them, in Ethiopian military and/or police offices. The other was a set of overlapping maps that hung in a corridor of the embassy in 1993-95. They were much smaller scale, not so hot for place names but covered with contours; I could follow every twist and turn of the Massawa road. They were produced by some U.S. government agency -- I think CIA, but possibly Defense Mapping Agency -- and, although labeled unclassified, bore an infuriating notation that they were nevertheless not available to the general public.

Larry Bucher
162 West Pine St
Spearfish SD 57783-8632
---
Thought I'd put the word out (for the benefit of those Kagnewites residing in this neck of the woods) that there is a very nice little Eritrean restaurant in Bloomington, Indiana. It's called the "Red Sea Restaurant" and is located at 404 East 4th Street (south side of 4th Street between Grant Street and Indiana Avenue) near the Indiana University campus.

Our IU student daughter discovered it, recently, and we went there for lunch the other day. Unfortunately, they don't have Melotti (or, even, Saint George) but have GOOOOOD zigani - the kind that makes sweat pool in your ears and drip off your nose and fart like a mule for 36 hours! Got done eating, went out the door, and starting looking for a gherri cart to take me home!
Jim Hinds, Columbus, Indiana
---
Soon it will be the second anniversary of the 4thUSASAFS (Kagnew Station) Homepage. This web site was originally developed to augment the Kagnew Station Homepage (created by John Harris and Mike Doran and inherited and maintained by Rick Fortney). The basic premise of this web site was that it was to be an outlet for humorous stories associated with the time that we spent in a place vastly differing in cultural and social mores than we were accustomed to at that time in our lives. These recollections, which are permanently etched upon our memories, deserve to be recorded for posterity. Where better to do so than the World Wide Web! The 4thUSASAFS Homepage policy is to print any story that has been submitted, regardless of content, editing only for spelling and syntax. Although it is preferred that the author's name be posted, pseudonyms are accepted to protect the author's anonymity. This is primarily an ASA web site, dedicated to the ASA personnel who served at Kagnew Station. However, any individual that experienced being at Kagnew Station is welcome to participate in the expansion of the site. The duty roster (Roll Call), however, is limited to ASA personnel only. If you haven't visited Kagnew Station 4th USASAFS Homepage you can do by clicking the underlined web site title.
Thanks again, Zazz

Updated 2/02/10 -- Zazz recently passed away but Bob Dymond has stepped up to keep the site going.....Rick
---
I just got to see an advance copy of the world's only Eritrean cook book. The woman who wrote it was in Asmara in 1996, and included a very nice history which brought my knowledge of Asmara up-to-date.

The nice thing is that the book includes a lot of recipes from the well-liked Italian restaurants in town that were there in the old days - - plus the favorite local dishes. It talks about how to actually make ingera and mix spices, and so on. Too bad it wasn't available before Christmas, because it would have made a nice gift for folks who were at Kagnew. Even the jacket is a painting by an Asmara artist!

The name is, "A Taste of Eritrea," from a NYC publisher, Hippocrene. It's available on-line from Amazon.com and BN.com (Barnes & Noble.)
Rick Warren
---
Talk about a Kagnew family tree, check out this note from Marge Perry about her involvement with Kagnew Station!
---
Here's a note from John Hirsh on a special video about Kagnew you can buy:

A videotape of Kagnew Station about 1967 including shots of Kagnew Station, the Mess Hall, the late Haile Selassie, University of Asmara, GIs of Company B, the Airport, downtown Asmara, dancing outside the Oasis Club and a gherry cart driver is available at Editran, 6812 West Calumet Rd., Milwaukee, Wisconsin 53223-4022. Cost is about $5.50. Email at editran@editraninc.com or phone number (414) 357-6477 or FAX (414) 357-6575 or call 1-800-906-3696. Ask for John Hirsh's Ethiopia or Eritrea tape.

Years ago Helix-PhotoArt in Milwaukee originally put the film together. When I found out about the Kagnew Web Page, I asked Editran to make videotape transfers from film and generic music was added. I sent a lot of copies around the country. But I later decided it would be easier for someone to get a copy from Editran. Incidentally, I don't get any bonus from Editran. Editran has a library of my Kagnew videotape. When you call they make the videotape and forward it to you.