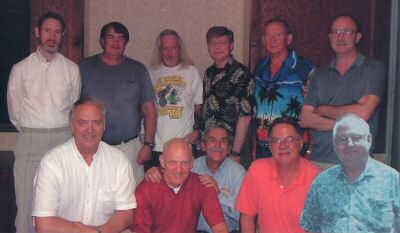 Front L to R: John Sims, Tom Mitchell, Linc Michaud, Jeff Townsend, Bob Steurer
Back: Will Amatruda, Larry Silves, Rod Ball, Len Thomas, Roger Coday, and Bob Shepherd
(Click photo for larger image)
I pulled out of Birmingham around noon, the 20th of May, 2004 with mixed emotions. The thought of seeing old friends for the first time in 39-40 years had me anticipating a great time... but the news that Doug Forester and Johnny O'Halloran could not make the trip had come a few days before and had somewhat dampened the enthusiasm. Doug was a big part of the reason for this little reunion. Our communications by e-mail had renewed a strong friendship we had reluctantly let go dormant in the sixties. After a lifetime of family raising, hard knocks, and two years of searching.... Doug stumbled onto my 'looking for' note on Kagnew.com (Thanks Rick.) A little sleuthing by a couple of ex-spooks,etc. from our group turned up a few more old top ten per-cent-ers. We had decided we had better hurry and get together before health became a factor. The letter I got from Doug a few days earlier informed me we had waited a little too late. Doug's doc had told him he was not allowed to travel and especially NOT hang with people like us. The letter also contained a new 'bighead' hundred with instructions for everyone to have a drink on "The Duke" and for everyone to have enough fun so we would want to do this thing again.... so as he could be there... Well, MISSION ACCOMPLISHED, Doug!!! You'd be surprised how long a dozen sixty-something's can drink off of a hundred dollar bill!!!! So now Doug has dedicated himself to getting into good enough shape to drink himself to death at the next reunion.

I had left a day early for Nashville as I was the instigator (myself and Tom Mitchell shared that title at Kagnew) of this little meeting and wanted to make sure the bar at the hotel was well stocked. In the lobby I got the word that Don Davies could not make it. We were all looking forward to seeing 'Nashville Don' again too. Upon checking in I was given a note from Larry Silves with instructions to call him in his room..... HIS ROOM? I headed for the bar and there he was with his newfound cowboy friend telling each other lies. It was kinda like the lovers running across the meadow in slow motion.... nah... it was really more like two sumo wrestlers charging each other at the start of the championship match as we exchanged that thirty-nine year old hug. The next five minutes was worth the trip for me. Larry was one of those guys who had more time in the chow line than I had in the army when I arrived at Kagnew... (Yeah, He told me that) and one of the best 058s to serve there. He was a hero to the group of new guys who came in toward the end of '63. He was also sufficiently scrufty to gain our admiration and to show us the ropes. He was kinda like a union rep... got a problem? Tell it to Silves.... he'd go to bat for you. If you guys were allowed to wear shorts with kaki uniforms at the site after 1965... it was because of Silves.

So Larry and I had a few beers, went to supper and watched some of the show at the Nashville Palace. We made the rounds of the bars on lower Broadway and came back to the motel bar to help close it down. We killed a little time cruising downtown the next day waiting for others to come in.... Toured the Ryman and got to stand on the stage and have our picture taken there. The cardboard Elvis was gone so we didn't get that picture!

Back at the motel Bob Steurer, Jeff Townsend, Tom Mitchell, Roger Coday, Linc Michaud, and Will Amatruda all came blowing in and were hearded to the bar. Only a couple of the wives were there to admire the professional beer-drinking style and back-slapping appreciation of a good story lived so long ago. To our surprise they showed only a few signs of grossed-out-edness from time to time.... but they still listened to try to catch something good on their husbands! Funny... Seems nobody ever tells their wives ANYTHING they did in Asmara. You know....classified!!

Things were getting louder as we were getting into Doug's hundred. I looked up and at the guy coming into the room and thought.... "Uh Oh... now who the hell is this guy?" It turned out to be Rod Ball!! He had become and was dressed and adorned like a biker dude. Rod was always a little independent and maybe a little nonconformist and from his appearance he had perfected that image... His tattoos and piercings were exquisite and his life to this point had taken many turns.... After Kagnew and a tour in Viet Nam it was living in Height-Ashbury, running a tattoo parlor in Alaska, school, working as a tax assessor in Ohio, dropping out completely for a while, and now working construction in Nashville. Like I said, Rod has perfected the lifestyle he chose and everyone loves him for it. As the reunion ended he said that this had been the happiest two days of his life...(That he could remember!!) Rod... We LOVE YOU man!!!!

Len Thomas came in and Bob Sheppard was due to arrive from Portland at 10:00 PM. Steurer made arrangements with a Russian limo driver to pick him up at the airport. Since the long, stretch limo had a long, stretch beer trough, Larry and a couple more wanted to go too. When he arrived, Bob approached the limo as Rumsfeld approaches his..... like he expected it to be there. "Nice ride", he said. The driver shook off all the suggested stops which Silves requested, saying he didn't know of any places like that in Nashville. The guy must have had something against tips, huh Larry!!

We all met back in the bar around 11:30 PM and started drinking off Roger Coday's dollar... (Thanks Roger).. and kept the bar open to about 4:00 AM. Len got his guitar out and sang and played the harp when he run outta lies to tell.... Well, actually he had a puppet there in Roger Coday who somewhat verified some of those wild stories which Len told.The plan Saturday was to meet in the bar with pictures and memorabilia. (I, who had reminded everyone to bring theirs.... had forgotten mine and had them UPS'd to the hotel...how embarrassing!!) Picture hour was a big success. Roger Coday and Linc Michaud had made their pictures into slide shows on CDs which they were able to show on computers..... great pictures too!! Jeff Townsend even brought super-8 movies of North Beach, our fishing trip on the Viking ship, and even a donkey softball game held on post in 1965, I think. Some of us had anonymous people in our pictures identified, after carrying around their un-named faces for so many years. Probably more unknowns could have been identified and more memories could have been recalled were it not for the rat-finks who didn't attend.. (Ya know I'm kiddin') Most of the guys who were not there were at least talked about a lot and since they were NOT there, we got to tell it OUR way!

While eating supper in a sports bar near the motel, a group of young people evidently overheard that this was a group of old, ex-military (or saw Len's 'lifer' cap). And, much the same as the last time we were in Nashville, the people were extremely nice and thankful toward us and really made us feel welcome and at home. That was refreshing... at least the military is getting some respect nowadays. (Southern term!)

I do not remember a negative thought during our stay in Nashville. This was an unselfish and unassuming crowd..... what great friends.

A couple of guys who I had very little dealings with at Kagnew... I now consider good friends. A reunion can be a most fulfilling experience in the life of us aging warriors (loose interpretation).. If you get a chance...go to one... or put one togather.... do it! I think small and informal is the way to go and there is more common interest that way(advice per Zazz)..... As we drifted apart again Sunday morning I heard some say, "I had my doubts coming in but I'm so glad we came."

Some random thoughts as I think back:

Enjoying talking late nights with my new friend, Will Amatruda. I would like to sponsor him on Jeopardy. The most read man I've ever met..... and by the way, don't schedule anything while 'Book Talk" is on tv.
How unreasonable Bob Steurer was about correcting a driver who sometimes takes the wrong way on a one way street, and also accusing the driver of not knowing where he is going.
The hilarious sequence of snapshots of Bob Sheppard going from opening the bottle of wine to resting in the fetal position with the empty bottle on the pavement after it is finished back in '64.
Linc Michaud being the same silly, great guy he was back then..... he still tells a great joke!
Jeff and Mitch.... friends for life.
Len's newly acquired talent on the harmonica and his singing one of my favorite songs. Wish we'd had more time.
Larry's story of cross country travel/deerslaying adventure. I think he's lucky he didn't have to take a drug test!!
Roger Coday almost being too shy to dance on the sidewalks of Lower Broadway!! (That's a joke, Son)
And My best friend,Rod Ball's summing up his life.... "I yam what I Yam and that's all that I yam"...... He's a Good'en!!!!

This was the greatest of times.... After all that water under the bridge, all the bald heads, and all the pot-bellies... this was still the same bunch of kids who shared a part of their lives with each other and now had the courage to meet again and share the consequences of those sometimes demented times when we demonstrated our manhood on "bathtub gin night" and then had our friends clean up the vomit the next morning as we pleaded to be put out of our misery with one quick shot to the head. That kind of friendship lasts a long time.

Kagnew Station was so small that most of us lived about the same experience. All of our stories are somewhat alike while being unique too. Do you remember the first time you went downtown to..... ?? Well sure, we all do. We all arrived under about the same circumstances... young, away from the rules of parents and, actually, civilization for the first time.... and just itching to grow up. There was a lack of any organized controls and some of us pushed the limits a little and some pushed really hard.....For most of the time it seemed more like a job than the army there. We were always buddies and took care of each other as best we could.... and also laughed at each other a lot.

Along with the wild times we talked of in Nashville, we remembered Hugh Downey who built a school for the children of Keren and how he is still caring for orphans in Kenya today.(Look up "Hugh Downey" on Google.) We remembered our friend John Nelson, who so tragically died two weeks before DEROS... We all grew up a little bit then. As we thought of others of our day who have since died, Al Appleton and Bert Schemederman, I thought how sad it is that as our generation passes on, only our children will remember us.... and they won't know that much, as a rule. Most people are not important enough to have a biography written about them.... but EVERYONE can have an autobiography. Why not take a little time and write it down in case someone cares someday?

As I close I'm thinking of "Boss" Springstein and his song "Glory Days" and wonder which he choses to think of today... going to the drug store and buying his medicine and all the other mundane things he has to do today.... OR.. being twenty-three years old.... on stage...belting out them "Glory Day" songs. I think we all know........... God, help us remember them too!!

Ya'll start thinking about where we'll meet next time!!

John Sims, 63-65 ASA Ops. Co., C Trick 058