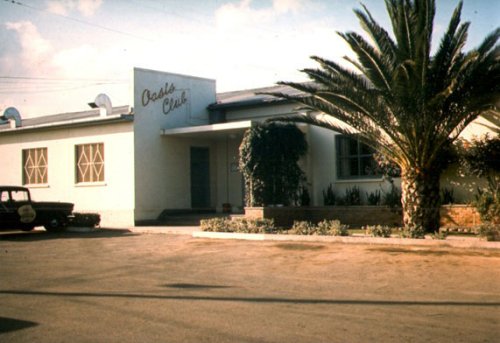 ---
This page will be devoted to the club for the ranks through E-4 at Kagnew. The original Oasis was instituted for the Radio Marina crew and the name was later carried over to the club at Kagnew Station.

In time I will have pictures, images and other items from this club.
---
Ron Ellingson (65-66) sent in a few items: Club Card, Chit Book and receipt. Also, here is a birthday get together, left to right, Dan Jenkins, Ron Ellingson, William Thomas (birthday boy), Tom Brosnan, Jack Diamond. Out of picture just before Dan Jenkings was Charles Trottman.
---
A short pictorial with some nice pictures in an Adobe PDF file.
courtesy of Ron Ellingson
---
The dining room at the Oasis Club, sent in by Howard Vanderpool. This is the only picture I've ever seen of it. If you have any others, please let me know.
---
Monthly Calendar (date unknown)
Free Drink Card
courtesy of Dwight Gibson
---
Guest Card
courtesy of Jack Hill
---
Oasis Newsletter, Volume 1, No. 3 - March 1, 1968
courtesy of Placido "Wop" Borruso
---
Oasis Club Shorttimer's Card [Cover | Inside]
courtesy of Harvey Brodsky
---
A very early Oasis Club lighter sent in by Jerry Pry.
---
Menus