If you have any information, pictures, sound clips that you'd like to contribute to this page please contact me about them. The success of these pages depends on you!

Stayed tuned to this page for more........
---
"4 Bits of Rhythm," circa 48-52!
With the help of Jim "Okie" O'Connor and Jerry Pry, we've probably got one of the first American bands to ever play in East Africa! Here is Okie's note:

I'm Jim O'Connor, aka "Okie". My tour was from September 48' to 52. Think Jerry's already sent photos of the band, known as the "4 Bits of Rhythm". WOW! That's the way it was then.

Ed Reinhart on trumpet, Leader etal.
Mark Thompson, drums.
Reggie Jenner, piano. A Britt, a captain in British CID
Okie, Bass & Soprano Sax.

Great times. Enjoyed. We also played the Officers Club.

Ed Rinehart, has passed on.
Mark Thompson, Cincinnati Ohio. Have not located him.
Reggie Jenner, England, address unknown.

Did not think of a band, combo, whatever when first arrived at RM. I was an MP. Heard Eddie blowing some nice music, as in Sentimental Journey, Sweet Georgia Brown, Saints, etc. Great to hear. We got together in the MP Barracks one afternoon, started "jamming". A crowed started to form, hence that got the band started, I'll check with Jerry Pry as to photos he sent to you against those I have. Perhaps I'll be able to add a few more.

[1] [2] [3]
---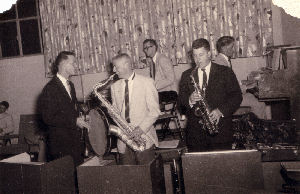 Joseph Besch, ASA 56-58 sent in this picture of a band that played at the EM club. Can anyone identify the band and it's members?

(Click picture for larger view)
---
"The Rebel Rousers," circa 57-59
I was a guitar player for a band called "The Rebel Rousers" from 1957-1959. We usually had about 7 members, and specialized in the music of the mid 50s. Mostly Elvis Presley, The Everly Brothers, Buddy Holly, Fats Domino, you name it, we did quite a bit of it. We also did a lot of country songs like Hank Williams, The Louvin Brothers, Hank Snow, etc.

The band had 2 guys (Paul Adams and Charlie Cardin) that could sing ANY Everly Brothers song, as good as the brothers themselves. Lonnie Brown could out-Elvis, Elvis too. The band also did several gospel type songs with 3 and 4 part harmonies.

We played at all the clubs on the post, and at a few bars downtown. We also won a talent show on the post and got to go play in Saudi, Arabia at the Air Force base. We also were invited to play at the Carnival for the Ethiopian Red Cross, and played in front of maybe 15 or 20 thousand people...I am attaching a picture of the group, and the members are: (left to right) Charlie Cardin, Ray Schneider, Lonnie Brown, John Hathaway, Jesse James, Paul Adams and Donald Carl. The group had other members over the years, and the person missing from this picture is Roy Collett. I am also attaching a picture of Ron Watkins from Guard Company who occasionally made an appearance with his great impression of Little Richard.
John Hathaway
---
"The Jack Hill Combo," circa 59.
The Jack Hill Combo in 1959 at the Officers Club. From left, Charlie Horner, Bobby Gardner, Dick Sowers, Jack Hill, Eddie Beardmore.

(More)
---

"The Dixieland Wildcats "or" Bobby Gardner Band," circa 60-61.
Charles Alan Voice played in the band and will be providing information on this band. For now, here is a picture of the band and from Halloween (1, 2, 3). Alan also sent in a short Word document with a few details.
---

"The Tiny Stoops Band," circa 60-61, courtesy of Alan Voice.
The band at the NCO Club, New Year's Eve 1961. More details coming as I receive them.
---
"The Road Runners," circa 64.
On stage (Front: DeWayne "Butch" Garner; Piano: Ernie "Pepe" Petrovich; Rhythm Guitar: AndyCooke; Sax: Jim (memory lapse); Drums: Bill Lamb; Lead Guitar/Vocals: Don "Texas" Lummus.

Butch Garner doing what he did best...wooing the women! Don Lummus on guitar with his new baby, a 1964 Gibson ES-345. Do you still have it Don?
---
"The Group," circa 64-66. Picture #1: L-R: Bob?? (horn), Mike Rogers (guitar), Dwight Gibson on drums, Floyd?? (guitar), Len Thomas (lead guitar) and Lea Cohen (hidden) on piano. (Courtesy of Dwight Gibson)

Picture #2: L-R: unknown, Bob Silvas(?), Dan Callahan (singer), Don Snow (guitar), unknown, Bobby Nugent (trumpet), rest unknown. On the far right is Andy Cook playing guitar. Andy also played in the Wed Nite Country Band. (Steve Downs and Len Thomas)

[1] [2]
---
Updated 8/13/2005
"The Cavaliers," circa 65-66. I am sending some pictures of the Cavaliers from 1965 and 1966. I replaced Ernie Petrovich on the piano in the Road Runners, and after most of the old Road Runner group left and were replaced by others, the flavor of the music also changed. We decided to change the name to the Cavaliers.
(Pictures courtesy of Steve Downs and Howie Porterfield)
---
"The Counts / The Maurocks," circa 66-67.

Hi, Butch Salada of "The Maurocks" here. Got an email asking if I had any pics of the Maurocks to upload. I have some and also some of the band "The Counts" which kind of evolved into the Maurocks. I still talk with Tuck now and then and get email from Vic. Larry Keiser was in Connecticut the last I heard. Our original drummer Willy went off the map, last heard of back in the 70's by my brother who was stationed in Florida.
(Courtesy Butch Salada, ASA 66-67)

The Counts at the Kagnew Station Post Entertainment Contest at the Roosevelt Theater, June 1966. (Photo description)

The Counts at the Oasis Club, June 1966: [1] [2] [3]

The Maurocks: [1] [2] [3] [4] [5] [6] [7] [8] [9] [10]
---
"The Blues Expression," circa 69-70 from Bruce Riccitelli Co. A, 05K, Tract C Nov. 1968-April 1970.

I've attached a photo taken during one of our rehearsals in 1969. From left to right: Me, Bruce Riccitelli (Drums), Al Tiecher (Keyboards, Vocals), Dave DeGerald (Bass, Vocals), Carl Carlson (Vocals), Marv Fuelles (Guitar, Vocals). Not pictured is Frank LaMonica (Guitar, Vocals) who joined the band a few months after this shot was taken. I received the photo from our bass player Dave DeGerald about a year-and-half ago. I'm still in contact with Dave. He's in Oregon, I'm in New Jersey. We played mainly at the Oasis Club from 1969-70. We occasionally played the Top 5 and Officers' Clubs as well. Another club we worked twice was the "Nyala Hotel", on "Ave. Queen Elizabeth II". See 2nd attachment for a flyer that was given out the second time we played there.

I almost forgot to give credit to a very important non-musician band member of the Blues Expression. That person is Jim Kelly. He was our "Roadie". He was the one responsible for setting up all our equipment (instruments, sound etc.). Just wanted to give credit to someone who was a very important member of our group.

[The Blues Expression] [Nyala Hotel Flyer]

Bruce also sent in a Kagnew Gazelle from 10 October 1969 which contained an article entitled, "Who are the Blues?" [Page 1] [continued]

Bruce is going to send a couple of more items but I'll keep the lid on that until it gets here.
---
"Max Bugsby," circa 70-72. Here is the band in the first two pictures playing at the Officer's Club. From left to right Mike Naylor (guitar), John Feehily (vocal), Ben Lucero (rhythm), Jay Dalrymple (bass), Mark Kowal (vocal), not pictured but in back playing drums Chuck Bursch. Here is a separate picture of Chuck.
(Courtesy of Mark Kowal and John Feehily)

[1] [2] [3]

A note on Max Bugsby from Ben Lucero.

The Concept of Max Bugsby by Mike Naylor (Thanks to Mark Kowal for sending it in.)
---
"The Shades of Ebony," circa 1970. Soul group "The Shades of Ebony" playing downtown on Christmas 69 or 70. I am the lead singer, George Carr on bass, young Ethiopian on sax, and trumpet players name I can't remember. I believe other members in the group but not shown were Warren on keyboard and (I believe) Jackson on drums (both civilians).
(Courtesy of Fred E. Caldwell, Sr.)
---

"Gaud," early 70s. George McLaughlin has filled me in on the lineup for Gaud.

Here are a couple of pictures playing at the Teen Club: [1] | [2]

Original lineup: George McLaughlin; Lead Vocals, Percussion John Critchfield; Guitar, Bass, Harp, Vocals Randy Rueter; Lead Vocals, Guitar, Bass, Harp Jeff Miller; Drums

Second version: George Randy Jeff Bob Colia; Bass, Vocals Brian McGeary; Hammond B3 Organ, Vocals
---
---
Sent in by Bill Kananen, here's his description:

I recently came into possession of a CD containing recordings from the old days at Kagnew. A group of the ASA soldiers got together and formed the band Max Bugsby that played at the Oasis, Top 5, and Officers clubs in the 1971, 72 era.. One of the members. Mike Naylor, found some old recordings in his attic and put together a 2 CD set. The band members were: Chuck Bursh on drums, Mark Kowal on bass, John Feheley on vocal, Ben Locero on guitar, keyboard, and vocal, Jay Dalrymple on guitar and vocal, and Mike Naylor on guitar, vocal and harmonica.
Bill Kananen
Kagnew 70 to 71

This is an mp3 clip which is nearly 9,260 KB in size and plays just under 10 minutes, so download it to your hard drive and play it from there. There is a special lead-in at the beginning. Don't miss it!

To save to a local folder from your browser:
Firefox: Right click the link and click "Save Link As"
Microsoft: Right click the link and click "Save target as"

Track1.mp3