Stefano Pettini is an Italian Air Force Warrant Officer with U.N.M.E.E. (United Nations Mission Ethiopia Eritrea). He is a ground technician, electric section of airport systems in Italy. He was called to Eritrea from the end of 2001 to April 2002. During his mission he met Hiwet of the Eritrean Army and invited her to come to Italy where they got married and now have an young daughter, Milena.

He say he travels to Asmara every March and April because it is the best compromise between daylight, temperature and air ticket price. He recently emailed me with information and a nice, recent picture of the Radio Marina main gate (now called Algen Camp).




Taken April 2005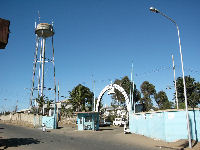 Click image for larger view
---
From Stefano:

Ciao Rick,
As far as I know in the very beginning, Radio Marina was the Italian Navy radio center, as you can easily imagine from the name, Radio Marina translates to Radio Navy.

When the Italians were defeated by the English Forces, it became controlled by the British military administration untill they left Eritrea. Later it was converted into accomodations for personnel working at Kagnew Station.

When Kagnew Station was closed, the camp was occupied by Menghistu's troops and is now a military area were Eritrean veterans can finally have a little rest. Any way, in your web site there is an old photo where it is possible to recognize the sentry-box in the middle.

The big water tank was placed there by US Army and it is since that time one of the symbols of Asmara. In Asmara there is a big scrape area where still now lots of items from Kagnew are collected: radio equipment, lorries, boxes and boxes of different other material.

Stefano also hosts a web site with photos and information devoted to the "Eritrean railway." Most of it is in Italian but one section is in English. If look around the site you will find a lots of photos about Asmara and every day I put some new sections.

The web address is: http://www.ferroviaeritrea.it/

And finally, Stefano says: Did you know that Kagnew was the name of beloved Haile Sellasie's little dog??