ASMARA, Ethiopia, Aug. 18
"There are no missiles, no clear weapons, no dangerous explosives of any kind on Kagnew Station," according to a Unite States Information Service pamphlet distributed here.
   Kagnew station, operated by the United States Army, is said to have no tactical armaments larger than a salute cannon that shoots .50-caliber blanks.
   The trouble is that many Ethiopians believe that Kagnew is a military base with secret underground weapons installations. Even many foreigners in this country are convinced that the United States turned Kagnew into a strategic military base because it was forced to close down its base at Tripoli, Libya.
   Kagnew, which is in the Eritrean capital, was originally a British base and was established as a United States communications facility in 1953 under a 25-year treaty. Since then the United States has spend $70-million here for food, salaries and other personal services, maintaining 5,000 Americans, including 1,000 dependents, plus 1,000 Ethiopians.
Students Oppose Station
   The base's main function is to transmit, relay and receive communications from United States diplomatic missions and military units around Africa as well as to relay messages from the United States and Europe to the Indian Ocean and even the Far East.
   Ethiopian students in Addis Ababa, who are generally radical, are strongly opposed to Kagnew Station and have staged "Close-Kagnew" demonstrations. Many students say it is the American military presence at Kagnew that has increased the continuation of the autocratic regime of Emperor Haile Selassie.
Rumors About a Spy Base
   The agreement on Kagnew expires in 1978, but so far there has been no indication from the Ethiopian government that it will ask the United States to pull out at that time. However, informed sources say that it is conceivable that Ethiopia, under heavy African presure, could be forced to ask the Americans to withdraw.
   "We never think about Kagnew--not until the question of American military bases comes up in African conferences," a prominent Ethiopian journalist said. "Then I admit it becomes an embarrassment."
   Rumors and speculation
about Kagnew alleging that it is some kind of spy base are so widespread that even some base personnel have had doubts about the mission of the station. The command information office has found it necessary to issue a statement of purpose for all newly arrived personnel"
   "The mission of this United State Army installatioin, an integral part of the worldwide communications network developed by the United States, is to serve as part of a program to provide rapid radio relay and secure communications for defense of the United States and the free world. Additional functions include monitoring transmission security procedures and research into natural electronic phenomena."
Relaxed Security Measures   From the relaxed security measures on the station it would seem that there is nothing much to hide. An American correspondent recently walked onto the station without producing any kind of identification, moved freely about the place and was stopped by no one.
   The word "Kagnew" is said to mean "bring into harmony" and "order out of chaos." There has been no local trouble over the station and the United States military's relations with Ethiopians are unusually good.
   Conscious of their delicate position, Kagnew personnel try hard to achieve cordial relations with the local community. Some 30 volunteers from the base teach at Asmara University and other schools here. Other volunteers are working with villagers on agricultural development projects and with the local Boy Scout movement.
   "Americans are very popular here because they have mixed with the people in civic action, taking part in projects such as reforestation, clinics, schools and orphanages," declared Asnatte Kassa, Governor General of Eritrea.
   He cited as an outstanding example Hugh Downey, a former G.I. who went to America to get contributions for a 50-bed hospital he has just completed at Keran, 30 miles west of Asmara. The Government newspaper, The Ethiopian Herald, published an editorial recently praising Mr. Downey's work.
   Emperor Haile Selassie visits the station occasionally. A few weeks ago he had a checkup by the base dentist.
   One cause for local suspicion is the size of the staff. Ethiopians find it difficult to believe that so many people are required to run a communications station.
   Base officials explain that because of its isolation Kagnew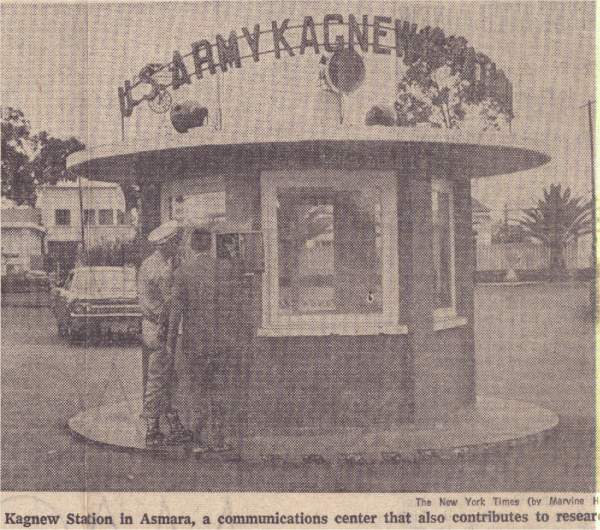 must be largely self-sustaining. The station generates its own electricity, purifies its own water, even makes many spare parts. There is no United States Army installation in Africa where supplies can be obtained so they come from the United States, taking five months by sea and a month by air from the time of requisition.
   The station also conducts weather research, which is shared with the Ethiopian civil aviation authority and the East African Desert Locust Control Organization. Tracking stations here have been used in connection with the Apollo space program.
   Kagnew's 40-bed hospital is a support station for United
State official and military personnel from all over Africa and most of the Middle East.
   Asmara was selected as a communications site because of its position near the Equator which means low radio interference, and its altitude at 7,800 feet, with good weather conditions.