Bill Giles (ASA 62-64) says that Gola's Meat market was the only authorized place off post to buy meat. He was regularly inspected by KS vets. At that time , the commissary was poorly supplied, The little bit of meat they had was hard frozen and old, having made it's way by slow boat from the US. So Gola did a brisk business. And his meat was good. I did a lot of back yard grilling for the single guys on my trick(s). We had some great times at my house, all a great bunch of guys.
---
I had the experience of visiting the Italian 'one man submarine' base north of the city of Massawa. Underground, with the capability of the sub surfacing underground for maintenance, there was also a hugh fuel storage tank of which I have pictures. My visit was sometime in 1958 during a few days of R&R at Massawa. There were not a lot of folks that even knew about the sub base.
Allen Peacock
---
Dag Andom sent in this bit of historical did you know:

The street that leads and dead ends to the former kagenw Station is named for General Andom Tesfazion. He was a war Hero during the Italo-Ethiopian war 1935-1941 - one of the finest wartime Generals the world has ever seen.
---
Did you learn any Tigrinya while at Kagnew? Don Coble sent in this list of phrases.
---
Did you know that a river once ran through the middle of Asmara?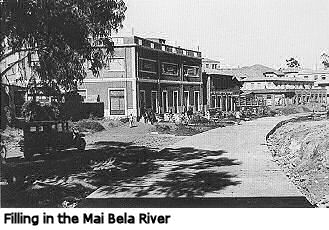 The Mai Bela River ran southeast to northwest through the city. According to legend, the Queen of Sheba gave birth to her son Menelik, by King Solomon on the banks of the river. The course of the river was normally dry but became a torrent during the rainy season. Between 1936 and 1937 the river was actually filled in creating a major traffic route, Mai Bela Avenue! It is located a few blocks north of the President's Palace, running between St. Joseph's Church and the Sheik Abdul Kader Al Jelani mosque.

(Source: Asmara: Africa's Secret Modernist City)
---
Updated 6/22/04 with menu.
Did you know there is a Massawa Cafe in Denver? Lew Colwell (sadly, Lew recently passed away) sent in pictures as well as this review:

Restaurant was extremely clean. Food was excellent and authentic. Sevice was wonderful. Restaurant was placed in the Top Ten restaurants in Denver 10/2002. (See plaque pic.)

Pictures:
Business Card
Massawa Cafe
Owner whose name is Ethiopia
Out front
Part of the gang [1] [2]
Top Ten Plaque
Menu [1] [2]

Thanks to Dick Lilienthal for sending in the menu.
---
Did all of you near Anaheim CA know there is an Eritrea restaurant there? Here's a note I received this week:

Dear Kagnew Vets,
We would like to inform you that there is an Eritrean restaurant (Merhaba Restaurant) in Anaheim, California. The address is 2801 W. Ball Rd #5 Anaheim, CA 92804, phone number is (714) 826-8859 and our website is www.geocities.com/merhabana. We are more than happy to serve you.
Esayas and Hanna

If you stop by, tell Esayas and Hanna that you read about it on the Kagnew Home Page!
---
Last year I came in contact with Mark Bent, who works for an oil company in Eritrea and we have been emailing back and forth since then. Recently Mark has been involved in a conservation effort for elephants in Eritrea! I didn't even know elephants existed that far north. Anyway, Mark just sent some great aerial photos and I've posted them for everyone to check out -- thanks Mark!

River flyover [1] [2] [3]
Elephant derd flyover [1] [2] [3] [4] [5]
A friend with Mark Bent and the plane

You can find his full story by clicking here.
---
Do you remember the term "subito" thrown around in Asmara? My friend Francesco deLeonardis recently translated for me what we heard so many times--"straightaway, forthwith, immediately, at once, pronto!"

Thanks Frank.....
---
Top 5 Twisters
Did you know there was an all women's basketball team at Kagnew called the Top 5 Twisters? Donna Iriana (married to Robert Snell at the time) registered with the Kagnew page and told me she was there 1963-1965 and was a member. I asked for more and she sent me a picture. Donna is sitting at the bottom right of the picture.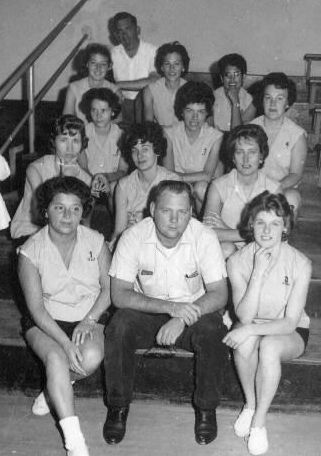 Top Row: Joe Tubbs, Coach
2nd Row: Ginny Cook, Betty Crowson, Roslyn Logan
3rd Row: Ginny Atchison, Alberta Trubenstine, Liz Wiley
4th Row: Marty Bryant, Ronnie Paugh, Betty Turner
Bottom Row: Kay Davison, (Coach, don't recall his name), Donna Snell

Thanks for sharing this with us Donna.
---
Debre Bizen Monastery
About half an hour by car from Asmara is the small town of Nafasit. On the top of Mt. Bizen overlooking Nafasit is the 700-year old monastery of Debre Bizen. It is possible for men to visit the monastery, but the only way to make the 400-meter, 7km climb to the top is on foot. The celibate monks say only men are allowed not because they dislike women; on the contrary they like them too much. The way looks formidable from below but is not difficult or dangerous and depending on your condition takes between one and a half and three hours. A day visit to Debre Bizen is realistic since the best times to make the climb and return are very early morning and late afternoon. Male visitors are encouraged and it is customary to leave the monks a contribution to aid in the maintenance and reconstructjion of the monastery. You will be taken to the Magabe (the monk responsible for hospitality) upon your arrival as a courtesy. Don't be surprised if the Magabe asks you to sit down while students wash your feet: a custom of the monastery since the days of its founder, Abune Phillipos.

The monastery is actually a small village of stone monk's houses, small churches and agricultural support buildings. It has about 60 monks and a fluctuating number of students in its religious school. Once very prosperous, most of the monastery's property was confiscated during the time of the Dergue's occupation, which actively discouraged religious insititutions. The monastery is now negotiating with the Government of Eritrea for the return of at least some of their former land and property holdings.
(1995)
---
The use of the term "brown bagger" goes back to the earliest days of Kagnew Station. During my tour (1953-1955) there was a lot of contention between the single GI's and dependents about access to merchandise offered for sale in the PX. It was well known that the PX Officer quietly and regularily provided the dependents, i.e., the "brown baggers", first pick before items were put out for sale to the rest of us.

The Post Commander, Colonel Charles, was so angry about the widespread use of this "derogatory" term among the single troops that he posted an order forbidding its utterance, and threatened courts martial to anyone who did not comply.

Bob Hart '53-'55
---
Massawa

Massawa, a city in northeastern Eritrea, a seaport on the Red Sea, near Asmara (Asmera). Also known as Mits'iwa, the city lies partly on the mainland and partly on several islands off the coast. The harbor is formed by a channel between one of the islands and the mainland. Important industries include the production of marine salt, glue making, and fishing.

For many centuries Massawa was a dominion of Abyssinia (now Ethiopia), and between the 16th and 18th centuries it was an Ottoman Turkish possession. In 1864 it was ceded to Egypt. Massawa was occupied (1885) by Italian troops and became part of Eritrea, of which it was the capital for several years. In 1941, during World War II, Massawa was taken by the British.

It remained under British administration until 1952, when, following a decision of the United Nations General Assembly, Eritrea was federated with Ethiopia; ten years later, Eritrea was united with Ethiopia. In 1993 Eritrea declared itself an independent nation after fighting a 30-year war for secession from Ethiopia.

Population (1989 estimate) 19,400.
---
Did the crew at Kagnew have a sense of humor, or was it something else? Here's a shot that Skip Dahlgren ran (in a b&w version, that is) in the Kagnew Gazelle, in Vol 17 No 4, the Jan 28 1972 issue. The caption that ran with it read as follows:


HAVE YOU SIGN THIS ONE YET?   Some anonymous calligrapher

      must have had fun with this one.  This sign has been hanging on the

      street corner by the STRATCOM barracks for at least four years, ac-

      cording to our roving photographer.  You say you don't get it?  Look

      at it 1th again.

                                    (Photo by Bruce Dahlgren)
---
When was the last time you saw an original Kagnew patch? Personally my unit did not use this patch, so I believe it was designated for ASA. Does anyone know exactly the history of the Kagnew patch seen above on the left?
Rick

When I arrived at Kagnew in January of '70, there were very few people that wore the patch. (I was in ASA - Company A.) The story that I was told was that the patch was the "official" patch for Kagnew Station and that they had originally been issued to newcomers by the post Quartermaster, but production of the patches had long since ended and no more were (or ever would be) available. During my time there, the only way to get a patch was to have one passed along to you by someone who was leaving or someone who had a personal stockpile of the patches. My patch was given to me by Rick Paxton, who had seemingly been in Asmara forever. I think he had been there six years when I arrived and was still there when I left.
Jack Creamer
(9/14/1999)

When I was at Kagnew, Dec '64 thru May '66, the patch was the official station patch and most all army personnel wore it. I was given fifteen or twenty patches when I arrived to have sewn on all of my uniforms. When I got to my next duty station in Udorn, Thailand, I saved a couple (still have one in my memorabilia box) and tossed the rest. Wearing the patch was not an option; it was mandatory.
Bill Prout
---
From Tom Wheatley:
In June, 1973, the Navy took command and Kagnew Station became USNAVCOMSTA-ASMARA. A small group of ASA stayed on until December to help with the transition. I can't remember the exact date that the Navy took charge, but my daughter was born on June 25 and it was a Naval hospital by then.
---
From Mike O'Neill, who is now in Asmara:
Eritrea accepts traveler's checks, however they do not get as good a rate as cash when you convert them to Nakfa. (Everywhere else in the world they get a better rate) Cash gets best rate, but make sure you have 20's, 50's or 100's that are nice new notes with the big pictures on them as they won't accept dirty or torn notes or the old ones with the small pictures. I am not kidding. They are that fussy.
---
Lee Ruebush tells us:
When I first went to Asmara in 1958 what was later called STRATCOM was then called USAMESCA (USA Middle East Signal Communications Agency). Later there was also a unit that I worked for that was called MESA (Middle East Communications Agency). This agency was in charge of all the sites in Iran, Turkey and Asmara.
---
Ethiopian dining in Colorado
There are a lot of former and present Ethiopians in the USA that know exactly how to make ingera and zeganey (sp). There is a new restaurant in Denver, CO that just opened up, called the "Red Sea Restaurant." They are located on East Colfax. They make all those dishes from Asmara, Eritrea. Furthermore, they have pictures and other memorabilia from the old days of Kagnew Station. This is just one of the many restaurants open to the public from Ethiopia. There is even a restaurant called, "Axum Restaurant," this is for the Tigrinya people to eat at. So, if its a little taste of Ethiopia you want, tell the people to come to Denver, Colorado.
Carl Akers
STRATCOM
---
Bob Hart, '53-'55, sends another note regarding the:
Kagnew Station Dedication Ceremony
FYI: Excerpts from a letter to my parents written on Thurs. evening, July 23, 1953 reads:

"Today they offically dedicated this post with a new name. I can't remember the name, but it is named after the Ethiopian division that is fighting over in Korea. The former name for the post was just United States Army Radio Station. The station is still (refered to as) Radio Marina; that is the name the natives recognize. It was built and run by the Italians during their rule, and later by the British during their 10 year rule. They had all kinds of Etheopian and Eritrean big wheels present during the dedication ceremony. I took some pictures, and will send them to you later....."
---
Bob Hart, '53-'55, sent along this clipping he sent home, which he found while stationed in Asmara:

ELECTRIC CHAIR ENCHANTS RULER OF OLD ETHIOPIA

Execution of criminals in Ethiopia under Emperor Menelike made missionaries wince. Each leg of a condemned man was attached to one of two saplings growing near each other and bound together. When the saplings would be cut loose, they would spring away from each other, and tear the victim apart.

The missionaries had long talks with Menelike (who preceded Haile Selassie as emperior) in which they told him about the electric chair. They told the emperor of the ease and smoothness with which it dispatched those condemned to die.

Intrigued by their descriptions, the dark-skinned ruler ordered an electric chair delivered from the United States. When it arrived, Emperor Menelike was delighted and couldn't wait to "try it out." But, suddendly, it dawned on the missionaries that it could never be used in Ethiopia. The country didn't have any electricity!

Emperor Menelike was a bit disappointed by this turn of events. But not too much. Still enchanted by the electric chair, he proceded to use it as his throne!
---
University of Asmara
The University of Asmara is located about a ten minute walk from the Government Offices. It was originally founded in 1958 as the "New Family" University Institute by the Missionary Congregation "Plae Matres Nigritiae" of the Comboni Sisters. Italian was the language of instruction. In 1960 it was accredited by the Superior Council of the Institute of Italian Universities in accordance with the General Convention governing international academic standards. In 1964 it changed its name to the University of Asmara and adopted English as its language of instruction alongside Italian. Eventually English replaced Italian in 1975. In 1977 it came under the Ethiopian Commission for Higher Education and was eventually dismantled in 1990. Its faculty, staff, students and moveable property were relocated to Ethiopia.

In 1991 it was refounded as an autonomous university and in 1992 granted a charter guaranteeing its autonomy and academic freedom by the Provisional Government of Eritrea.

The University currently has the Colleges of Science, Arts and Language Studies, Business and Economics, Agriculture and Aquatic Sciences, as well as the Engineering Program, the Education Program and Law Program. The IRD or Institute of Research and Development, located in downtown Asmara near the central Post Office, has been established to promote basic and applied research in all fields.
---
Ethiopia
A Greek noun derived from aithiops, meaning face burned (by the sun), Ethiopia refers to several regions of Africa. Among classical authors, it designates Nubia, south of Egypt, and, more generally, all the regions populated by blacks. That is the case in Herodotus and the New Testament. In early Christian literature, +Ethiopiansª often appeared as generic ªgures of evil, stained black by sinÅa blackness that could be +washed awayª by baptism. In early monastic literature, monks were frequently tempted and tormented by demons who appeared in the form of Ethiopians.

In the 4th century c.e., the name Ethiopia was adopted by King Ezana to designate his kingdom, Abyssinia, in its Greek inscriptions (it was called Habashat in the indigeneous language, GeOez). Among the late Greek and Roman authors, Abyssinia was called not Ethiopia but India, like the other countries bordering the Indian Ocean (more precisely, India ulterior in Ruanus). The late antique Ethiopian state was also commonly called Aksum (or Axum), after its capital, which was located on the Tigrean plateau about a week's journey south and inland from the Red Sea port of Adulis.
John Hallahan
STRATCOM '67-'69
---
Ethiopian Calendar Year
The Ethiopian year consists of 365 days, divided into twelve months of thirty days each plus one additional month of five days (six in leap years). Ethiopian New Year's falls on September 11 and ends the following September 10, according to the Gregorian (Western) calendar. From September 11 to December 31, the Ethiopian year runs seven years behind the Gregorian year; thereafter, the difference is eight years. Hence, the Ethiopian year 1983 began on September 11, 1990, according to the Gregorian calendar, and ended on September 10, 1991. This discrepancy results from differences between the Ethiopian Orthodox Church and the Roman Catholic Church as to the date of the creation of the world.
---
Caravel Restaurant and Hotel, Tel: 12-3830
Drive past the Nyala Hotel on Martyrs' Avenue to the roundabout; around it until facing the street which leads up the hill. The popular and busy Caravel is on the left side of the street.

Some say this is the best pizza in Asmara; good local and Ethiopian wines.
---
In a note from Ralph Reinhold, he discusses the above ground pipes we had at Kagnew:

I have always wondered why the pipes were above ground at Kagnew. I think I figured it out. We had a long hot dry summer. A water main burst in nearby Madison AL. The engineer said that when an area with solid soil gets extremely dry, the soil dimensions change dramatically and stretch the pipes and break. I asked a Civil Engineer with whom I have worked if this was true. He said it was. I told him about the pipes at Kagnew and described the climate and asked him if this was why the pipes were above ground. He said it probably was.

If anyone can verify this or fill us in with a little more detail, please email me.
---
Injera, is a spongy pancake made from teff, wheat or sorghum. The grains are ground up, made into a watery dought and then left to ferment for a couple of days before being fried or baked. Injera is eaten with stew, usually called zigni (see below). When it is served, several injera are usually put on a tray and the stew poured into the middle.
---
The town of Keren is the provincial capital of Senhit Province and one of the major agricultural centers of Eritrea, particularly for fruits and vegetables. The drive to Keren is very beautiful passing through a variety of landscapes. Near Keren one passes through the Elaberiet agricultural center, one of the most productive in the country. Irrigated by a series of seven dams, Elaberiet produces fruits and vegetables for Asmara and other markets. In addition, its dairy herds supply fresh milk, butter and the cheese factory produces provolone and other cheeses. Keren itself is in the center of one of Eritrea's main fruit growing regions.
---
There is an eight hour time difference (ahead) between the U.S. (Eastern Daylight Time) and Eritrea. If your area uses Daylight Savings Time in the summer, the difference is then seven hours.
---
Tsebhi, which is also called zigni, is a stew made from chicken, beef or lamb. It is simmered for hours, traditionally in clay pots, in a tomato sauce spiced with berberé chili powder and other spices.
---
Eritrea covers 124,320 sq. km., or about 47,754 square miles. This is about the size of England, Austria or the state of Pennsylvania.
---
Most street names have remained the same since Independence, with some important exceptions. The main street, once called Haile Selassie Avenue is now called Harnet Avenue (Freedom Avenue). At the top of Harnet Avenue, the road which leads in the direction of the airport (and Kagnew Station) is now called Martyrs Avenue, recalling the 65,000 Fighters who gave their lives in the struggle.
---
The original, and correct pronounciation for KAGNEW is "ken-you". When Kagnew Station was dedicated in August 1953, the people stationed there at the time were instructed that this was the way the new station name was to be pronounced.
Bob Hart '53-'55
---
The name Asmara comes from Arbate Asmara. It means "they (feminine) united the four." Oral tradition holds that there were four small villages in this area which were fighting with each other. The women of the villages got together and worked out a plan to end the fighting and unite the four as one village.
---
Next to the Central Post Office is a little restaurant named "Asmara Restaurant". It is owned by an Eritrean named Berhane who was a former houseboy in A Company. He and his wife, she handles all the money, serve some of the best "Kulwa" in Asmara at very reasonable prices. They also have a specialty that my son and I just love called "Banana juice". If you go to Asmara you MUST go to this restaurant.
Mark Kowal
"A" Company '69-'72
---
The Central Post Office in Asmara is located two blocks off Harnet Avenue in the center of Asmara on Gennet Heroes Square. It was built in the Italian Colonial style and has been virtually perfectly preserved.
---
The Dahlak Hotel, with a wonderful location on the harbor, just opposite the entrance to old Massawa, was once a hotel for American servicemen stationed in Asmara. It was eventually taken over by the Dergue but has been completely renovated during 1993.
Telephone: 552725