---
July 24th
I'm gathering information on the call signs we used at Kagnew to create a map indicating these communication circuits. For instance, the Navy base at Rota, Spain was designated at AOK. We at Kagnew were AEZ. I've enlisted the help of a few tech controllers to get this page started, and together with them we have come up with a list as a starting point. I've posted the page at kagnewstation.com/maps/callsigns/index.html and would like some help if you were involved in the communications with these sites. Check out the page and email me if you have something you'd like to contribute to this project.
Thanks, Rick

Updated August 30th
I have started the map which is linked on the above page and have most circuits on it. I will be updating it as the information is completed.
---
June 23rd
Lincoln Michaud recently sent in this photo of Santa and a couple of kids at Kagnew. He believes it was taken Christmas 1964 and would like to know if someone can recognize anyone in the picture? If you have any information, please .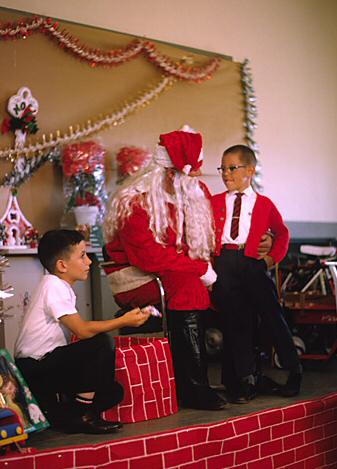 From Tracy Gibson-Lake (8/13/2005):
The general consensus in the family is that the little boy in the white shirt is Cary E. Gibson, son of "Pete" Gibson and Mary Gibson.
---
February 14th
In July of 1969 an anthropology class was held up by a band of ELF. A national I brought along translated for us and may have saved our lives. His name is Ghebre-egziabiher Ghebremecal (spelling probably incorrect) He was a high school student at Asmara High School and helped guide me around the city. The anthropolgy professor's name was Sullinger. I would like to find other people who were involved with the incident and compare pictures and notes.
Thanks,
Claude White
---
February 10th
Robert Hawk picked up a Kagnew license plate at an estate auction and wondered if anyone could give him some details on it's issuance and numbering scheme. And if by some wild shot in the dark you can recognize the plate as one you had, that would be something! Email Bob if you have any information at rhawk9-11@cfl.rr.com.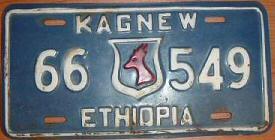 ---
January 25th
Hi Rick
my name is Abiy Solomon, my question is not about the reunion but I need your help. I would really like to find a Doctor who was stationed at the army hospital in kagnew station. (1964 EC or 1972 GC) . I was in a car accident that clamed 2 peoples lives. I stayed in the army hospital for 21 days. But I don't remember the name of the doctor who took care of me, the nurses or the people that were working in the hospital at that time. My father passed a way before I had the chance to ask him about the people that helped me, But my mother had told me, the command officer of kagnew station during my stay in the hospital was a friend of my father but I don't know his name. If you can help me, please contact me as soon as possible my name is abiy Solomon or ( Ronnie ) , I was 9 years old, I was the only Ethiopian kid in the hospital at that time, the year was 1964 EC 1972 GC, my dad was an officer in Ethiopian Navy, his name was Solomon Belete. If you need more information about me or you have any information that can help me please let me know, it's very important. I never had the chance to say thank you. and also I will like to say, that was not the only time my life was saved, once again 1984 I was give the chance to come to USA. Today I have a better life, and I, AM, AMERICAN CITIZEN. GOD BLESS AMERICA, AND GOD BLESS AND PROTECT OUR TROOPS AND YOU.
thank you
abiy solomon
---
January 25th
I'm not sure if this question has been asked in the past, but Dwight Gibson wants to know if anyone knows the name of the MP in the picture on the Kagnew home page?
Click to send him a note if you do.