---
September 12th
From John Larrimer
I belong to the International Airborne Society (see website at airbornesociety.com), a bunch of old ex paratroopers who go all over the world to jump with foreign airborne units. In October, we're going to Russia, to jump MI-8s and AN26s with the SPETZNAZ in Ryazan. I have talked a buddy and former law school classmate, Wayne Schoeneberg, into coming along, taking the Russian airborne school "short course" (thirty minutes of instruction on law of gravity and keep feet and knees together, thirty seconds of instruction on "ripcord handle red - krazny"), and jumping with us.

He's former ASA (late sixties), and needs to have his BDUs (what we used to call fatigues) in order. To make matters worse, he was a F%$#@*& officer, so he can't figure this stuff out for himself. He needs an ASA left shoulder patch, an officer branch of service collar tab (OD cloth), and an OD background cloth silver bar. If you would post this info request on the site, I'd be grateful.

Also, we could always use another Russian speaker, so if any of your ASA guys who gavarite po Russki are airborne qualified, and want to lower their standards by jumping with a bunch of inebriated geriatric SF/airborne types, come on along. I have taken several of these trips with Bernie (IAS Honcho) over the past eight years (Belarus, Poland, Hungary, Slovakia, Latvia, Argentina), and they are fantastic.
Thanks, John Larrimer
---
August 27th
From Doug Wilson:
I was Post Armorer and a member of Guard Co. 1958 - 1960 and Post Training SGT 1965-1968. Really loved Asmara. I remember seeing the men of the villages around Asmara carrying fly swatters made of horse hair. They were made of a stick about a foot long and had a large tuft of hair about a foot long. If anyone out there knows where these fly swatters may be purchased please contact me at dougwilson35@yahoo.com. Thanks!
---
April 16th
Vince Bowler and a group from the Navy Communications Unit, 1958-1959 are having a mini-reunion and have a request. "We thought it would be a real trip down memory lane, to top off the meal with a few cold bottles of Melotti." I gave him the bad news about the Melotti brewery but if anyone out there has some information, or beer for Vince, email him at vinceb@completecomputerservice.com.
---
April 8th
Hi,
I'm a Swedish historian who is writing a piece on the Ethiopian Air Force in the 1950s. I seek contact with anyone who has photos or memories of the Ethiopian Air Force at Asmara or elsewhere in the 1952 to 1960 period.
Thanks!
Best Regards,
Leif Hellström
Stockholm, Sweden
---
March 21st
I remember a picture of Ethiopians dancing in costume (Mescal ?) in the foreground with Stonehouse in the background. Does anyone have a copy?
Irv McWherter
---
February 7th
From Bobby Delver

Here is a photo of the NCO wive's club, circa 1971-1972. The girl in the middle is Gail Mortensen I believe. Not sure at all about the rest maybe you know or can get some help in identifying? If you can, send Bobby a note at delverb@sonetcom.com let him know.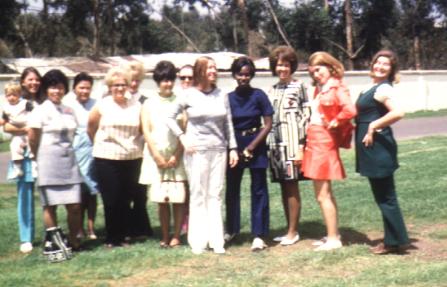 ---
January 20th
or should we say "Can You Guess" who Santa is in this picture? Ed Dubil, Jr. says it is of him and "Santa" in 1970. Picture was taken on base at Kagnew.
Email Ed (brutus@intergrafix.net) if you think you know.
---
January 16th
My sister T. Mendaye was born inside the Kagnew station in 1973. I have been searching to see if I was going to be able to obtain some kind of paper showing that she was born in Kagnew Station. If you should know someone who would have a list of the new borns in Kagnew , please contact me.
Thank you.
MenelikM@aol.com