Milton Lane, Kagnew '71 (HHC Aviation Section, 67N2F Crew Chief UH-1H 67N20) sent in some information pertaining to the Kagnew map. I don't have pictures at this moment, but he describes a couple of buildings at the far end of Kagnew that have been overlooked. Here is his description and an area map to indicate the buildings. (If you have anything to add to this please email that information in and I'll get it added.)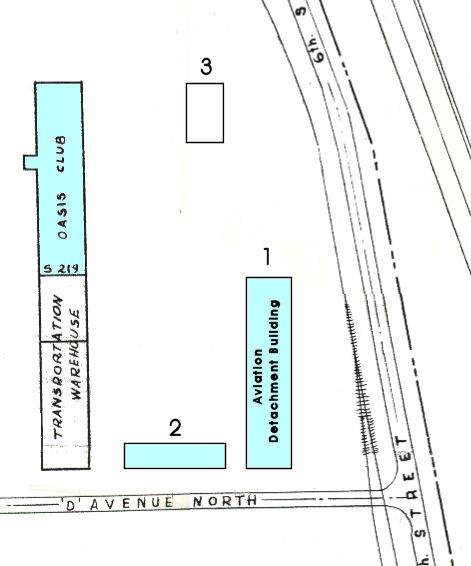 1. This was what we called our hangar, basically a tall shed about 20 feet tall, tin roof and NO sides. We had just enough room to get both UH-1H's in at the same time. This was by sheer luck as the building was already there so I guess we got lucky for if it had not been there then there would not have had a hangar. The ships came in after we got there on an Air force C-141 Star-lifter(homecoming for me as one ship was one I crewed in Nam in 69). We had to assemble them at the local Airport, hated that dang drive at night down that long road to many asses (donkey's) out there.

2. This was about 45 to 50 foot typical military trailer we used as our office, parts, machine shop so on and so on. We actually got a few parts in before the ships arrived. I'm trying to remember(going quick) how many we started with. If the old cobwebs have it right the enlisted side 1 E6, 2 E5's, 2 E4's 1 E3 and 1 E2. The really cool thing was there was NO officer in charge of the attachment. Our E6 was the NCOIC and reported directly to the HHC First Sargent. All of our pilots(all 3 of them) were already at Kagnew with different jobs. We had 1 W2, 1W4 and a Major who's main function was Supply. Will give them all a big hand as they were all damn good pilots(might be because all had been to Nam).

3. Have no idea. Think it had something to do with electronics or electrical as it at times screwed up our instrumentation on take offs and landing's.

Milton also adds:
If you remember there was a stone/brick wall at that end of the compound with large tall trees just outside the North end along with a large cemetery, so we basically had NO approach or take off space (not a good thing but no choices).

Our mission was to supply at first nothing more than a means of transportation back and forth to the Massawa R&R center. We had a problem with the altitude and the fact we had to pull a straight hover up to about 60 to 70 feet before we could even go anywhere.

It wasn't long before the local ELF contingent figured out our departure and return approach which worked out the best with the wall and trees as they were. So they started getting the occasional pot shot. Got to the point for a while we had to get to the hover, then take off building speed by going North to South across the Station (so much for wind direction not good). We changed route and they eventually gave up and started taking pot shots at the tracks. We started doing double duty a bit as when there were shots fired at the tracks we had to mount up and go (crap I went to Kagnew instead of a 2nd in Nam). Just kidding.