---
Updated 1/4/12, Book III has been released!

Dragon Bait, book II of "The A.S.A. Trilogy," is published and available for order. This second, linked and contiguous novel of ASA in the 1960s in Viet Nam, Germany, Eritrea (Ethiopia), CONUS, and scattered other settings, continues the shaggy-dog saga of Winter, Brenner, Ratty Mac, Crazy Bruce, Magic Marving, Sky Queen and the entire bizarre cast assembled for book I, Involuntary Tour, released September 2009.

Book I was set basically in Bad Aibling, Germany, 1968, and several locations in the Republic of (South) Viet Nam, 1964-65, with a few flashbacks and deviations into other venues. Book II, Dragon Bait finds its locales, again in Bad Aibling, 1968, but then segues to Saudi Arabia, 1960; Asmara, Eritrea (Ethiopia), 1960-62; Monterey, 1965; Milwaukee, 1963; then to Gartow and Rothwesten, Germany, 1966-67; back to Bad Aibling, 1967-68; then to several sites in Viet Nam, 1968. There are also internal flashbacks to other venues.

Written by career-ASA author Robert Flanagan, the new book II, Dragon Bait, as well as book I, Involuntary Tour, are available on my website: along with other books I have written. Instructions on the website provide you a means to order and pay with PayPal, or via USPS mail by sending a personal check; all instructions are complete. The books, in both hard cover and trade paperback available also through www.amazon.com, www.alibris.com, all major distributions houses and thousands of local book sellers, and www.AuthorHouse.com. An e-book of either work is available through www.AuthorHouse.com. But for print copies, my website offers the most attractive prices, and is the only practical way for the buyer to get an author's signed/dedicated copy. Also, on my website, is a provision for downloading, at no cost, a glossary of GI jargon, slang, abbreviations, acronyms, and obscure terminology that appear in the books, as well as translation for all foreign phrases in the novels.

Book III, Falloff, is now available. With a few minor excursions aside, book III is set almost entirely in Viet Nam in 1969.

Dragon Bait, a novel by Robert Flanagan (Kagnew Ops. Co. 60-62).
Hard cover ISBN: 9781456730161
Soft cover ISBN: 9781456730178 344 pages
Connemara Press/AuthorHouse, February 2011
---
Doyle Matthews, STRATCOM 70-72, has written a sci-fi book entitled "Asmara's Anamoly" and is offering it on his web site.

Asmara's Anomaly tells the story of Neil Armstrong Keller, an alcoholic engineer who blames himself for his wife Sara's death and becomes enmeshed in international intrigue following his compliance with Sara's dying wish that her ashes to be strewn on the moon.

At M.COM International's remote radio station in Asmara, Eritrea, in East Africa Neil discovers a radio interference or anomaly that originates in outer space. He becomes an instant celebrity but the virus-like anomaly spreads and interferes with satellite radio networks causing worldwide panic.

Neil's close association with M.COM's chief engineer and mentor, Haile Major, puts him under the watchful eye of the powerful NSA led by ruthless Deputy Director Thomas Palozzi who believes Haile Major instigated recent terrorist attacks against U.S. satellite facilities.

Haile's posthumous letter confirms Neil's belief that his friend was a patriot and proves that the NSA illegally used M.COM International for spy activities, and that Haile Major's death had not been an accident.

Economic chaos on earth forces NASA to launch a joint U.S./China mission into space to locate and disable the radio signal anomaly. The mission is plagued with eerie occurrences that culminate with an amazing discovery that takes on spiritual significance and is more than science can explain.

Back on earth the tragic aftermath forces Neil Keller, the only one man on earth who knows the truth about the ill-fated NASA mission, to return to the United States and face the NSA's unscrupulous leader Palozzi, and his own demons.

Read an excerpt from the book (around 5 chapters!) and buy it online in either ebook or paperbook version
---
Al Rayl, a long-term Kagnewite from 1958 to 1964 has created a great looking ASA/Kagnew patch for you ASA guys. The patches come with a heat adhesive on the back so they can be put on a hat, jacket, anything you'd like with a heat press or heavy iron. Or you could just sew it on if you want just like we did on our uniforms.

Al says they have arrived and he is currently shipping them as soon as you order them. You can make your check out to Al and mail it to him at the following address.

Al Rayl
5211 Whitney Ct.
Pasadena, TX 77505

The price is $5.00 which includes mailing costs.

If you have any questions, give Al a call at (281) 991-5006, or to email him. If you have trouble with this link, just look Al up on the roster and use the link there.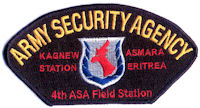 Click to view larger image
---
Eddie Howell, STRATCOM 68-70, has written a children's novel he is offering for sale. It's entitled "The Soda Pop Gang" and is available from his publisher at a cheaper price Author House, and is also available at Barnes & Noble or Amazon. You can google it using 'the Soda Pop Gang' to see book reviews and websites.
Thanks, Eddie
---
"Sea Stories: Reminiscences of a Navy Radioman 1952-1977"
by Larry Bucher
59-61, 69-71, 93-95
US Navy NavCommSta
Tract C, Tract F
U.S. Embassy



Click to view larger image

Larry's book is available from the publisher at the Author House Book Store. One hundred of its 426 pages are devoted to his two Navy tours in Asmara. It is also available from the usual outlets – Amazon, Barnes & Noble, bookstore orders, etc. and the price is $22.00. It is a little cheaper directly from the publisher, but they tack on a hefty one-book "shipping" charge, so if you have anything else to order from Amazon you're better off with them.
---
Long-time Kagnew page friend Mike Metras wrote a book entitled "Ethiopia: Travels of a Youth" and has it for sale on his web site. Here is the description:

Ethiopia: Travels of a Youth is a CD-ROM book that takes you down the highways and byways of Eritrea and Eritrea during the late 1960s when I lived there with the US Army. This book has over 75,000 words and 440 pictures along with 11 videos and 11 sound tracks (with over 60 minutes of music).

If you'd like more information about purchasing it, head over to his web site.
---
Paul Betit (67-69 ASA, 98C20, Co. B, T/C in the "bowling alley" at Tract C) has written a book entitled "Kagnew Station" and is making it available for sale at $14.95, or $16.00 for a signed copy, shipping included. You can or contact him at:

Paul Betit
42 Ivanhoe Dr.
Topsham, ME 04086

1-207-522-6092



Paul sent me a copy and I hope to have some excerpts posted soon. If you order a book and tell Paul you read about it on the Kagnew page, he'll give you a $3.00 discount--Rick.
---
I have just written a book about my experiences at Kagnew Station in the early 70's and when I returned to Asmara and Kagnew Station in 2001. The story centers around a little girl I met there when I was playing golf and how she and her family have impacted my life. I wrote the book for her family, but a few of my friends from Kagnew have read it and liked it very much, so I am letting you know about the book.

There are a number of pictures from the 70's. In 2001, I was able to get on Kagnew and took many pictures of old station. There are also a number of recent pictures from Asmara, the road to Massawa, and Massawa. If you would like to learn a little more about the book, you can use the following link:



Check out Ed's web site


The author's royalties are being donated to Letekidan's children and to the Comboni nuns who help with the orphanage in Asmara.